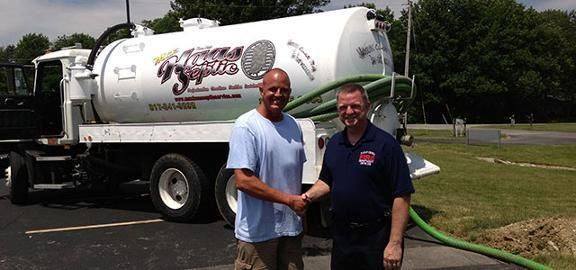 Company History
Since 1923, Max Haas Septic Service has been providing Indianapolis and central Indiana with clean, punctual, and professional septic services, in addition to grease trap pumping and other types of services.
Read more
Our Services
We provide both residential and commercial septic services throughout central Indiana. Our service areas include Carmel, Fishers, Greenfield, Greenwood, Noblesville, and Zionsville.
Read more
When you work with us, you can always expect to receive free estimates and low rates. We also have payment plans that are available for your convenience.
If you have any septic service needs, whether a system back up or general maintenance, we would be happy to help. With our many years of experience, we bring the expertise and state-of-the-art equipment necessary to properly handle any size job.
Trust us to handle your valuable property and to provide you with the best service around – contact us today for more information or to set up an appointment.
I am happy to tell you that the TerraLift drainage and decompaction service you provided around my leech field last fall had an IMMEDIATE IMPACT on the flow through the system. To date, I have had no further backups. I also appreciated that you were able to perform the service for a very REASONABLE COST and without having to excavate my backyard.